Taupō BMX Club is part of the Central Region BMX Association which is made up of five clubs from around the central district. Taupō has over 100 members.
Taupō BMX Club was host of the 2015 North Island Titles.
Taupo BMX Club had a major revamp of our track in 2009 and since then we have added a new start hill with Pro Gate controls and safety gate. We have sealed berms and our track boasts excellent grounds that have stepped viewing areas around the first and second straights which allow more space for gazebos and tents.
We have our club nights during summer on Wednesdays from 5.15pm registration and racing at 6. During winter, we meet on Sunday afternoons from 12.15pm.
Find us at Crown Park, 115 Taharepa Road, Taupo.
Taupō District
The Great Lake Taupō district is centrally located in the middle of the North Island,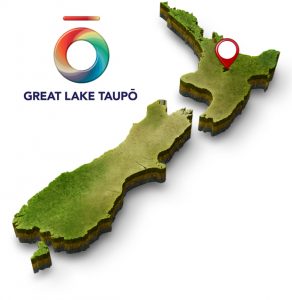 approximately 3 ½ hours drive from Auckland and 4 ½ hours drive from Wellington. It is within a 2 hour drive of Waitomo Caves to the west, Hamilton to the north, Tauranga to the east and The Ruapehu District to the south.
Air New Zealand operates daily flights to Taupō Airport from Auckland. Taupō is serviced to and from Wellington by Sounds Air with morning and evening flights daily.
Rotorua Airport is a 50 minute drive away which has connections for domestic destinations including Queenstown, as well as a twice-weekly flights from Sydney, Australia.
Lake Taupō is the largest fresh water lake in the southern hemisphere, making boating, water sports and kayaking to the Maori Rock Carvings popular all year round activities.
Taupō is the adventure capital of the North Island with jet boating, bungy jumping, mountain biking and skydiving on offer.
The stunning vistas, lake-front cafes and the ever sought after New Zealand geothermal hot springs further making it a wonderful place to relax.