It is with much pleasure that we congratulate the successful NZ BMX Test Teams, who trialled in Te Awamutu, Sunday 29th September 2013.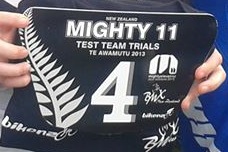 The following test riders will ride as a team against the Australians Test Teams as part of a 'cultural exchange', to be held at the North Island BMX Championships, on the Te Awamutu BMX Track, Labour Weekend, 26th and 27th October 2013.
Thank you to BMX NZ for the support in giving these riders the opportunity to represent New Zealand in BMX, and to the Te Awamutu BMX Club who hosted the trials. Thanks to all who assisted this event and most importantly to all who put themselves forward to trial for the teams.
Mighty 11 Male
Cailen Calkin Hamilton (Captian)
Ryan Martin Cambridge
Zach Paterson Rotorua
Tasman Wakelin Nelson
Mighty 11 Female
Stevie-Lee Rueben Hawkes Bay (Captian)
Ella Hansen Rangiora
Gemma Hills Gisborne
Charlie Lester-Rosson Taupo
Coach Clive Telford
Manager Sharon Cheeseman
Senior Male
Bayleigh Rees Papakura (Captain)
Maynard Peel Sunset Coast
Clay Merito Te Awamutu
Lewis Smith Gisborne
Senior Female
Rebecca Petch Te Awamutu (Captain)
Amy Martin Hawkes Bay
Zoe Fleming Papakura
Jordan Donaldson
Coach Dave Kidd
Manager Susan McConie