Taupo BMX Club has prepared their site and parking plan.  Please read on for important information regarding parking.
Site Plan:
Download PDF here: 2015 NIT Site Plan.  Club allocations will be clearly marked on the grass on Friday.  No gazebos are to be setup until Friday from 3.00pm.  The first row of gazebos/tents should be 3X3 or 3X6 style only - square/rectangle shaped - these will be placed at least 2 meters back from the track barriers.  Please be considerate of your neighbouring clubs when using guy ropes or pegs!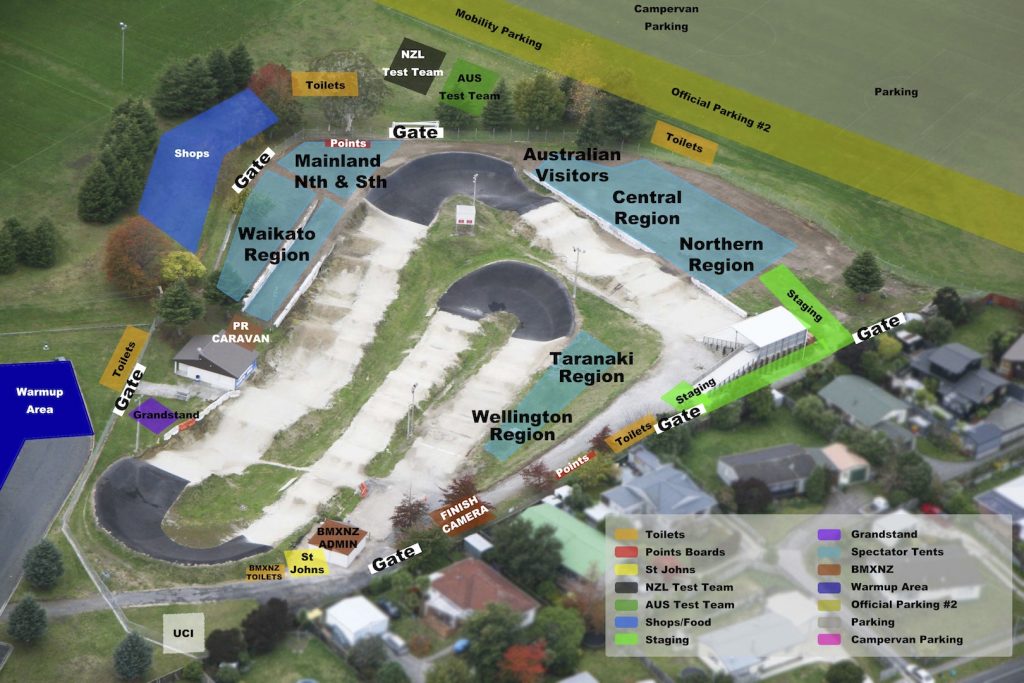 Parking:
The Taupo Soccer Club is marshalling the parking on their fields.  Please obey the signs and their directions as it is their playing fields that will suffer from your actions.  Please, if it is wet, drive slowly and if you get stuck, ask for assistance rather than making your wheels spin!
The entry for parking is off Crown Road, opposite the new Placemakers entrance.  Make your way across the fields and park where indicated by the marshals.  There will be a space allocated by the Officials parking on the field for mobility parking and directly behind will be camper van parking.
The Soccer field parking will be open for Friday's practice sessions.  Please do not use the Taharepa Road (normal entrance) entrance on Friday, Saturday of Sunday unless you have been told to by BMXNZ PR.
Download Parking Plan here: 2015 NIT Parking
As you can see on the Parking plan, there is a shaded red area - that is a NO GO zone for anything that has wheels!!!  Please respect that as that is a request from the Taupo Soccer Club.  Please do not park out on the roads or in the Church carpark.
If you have any questions, please email info@taupobmx.org.nz.