Day three of the 2015 BMX NZ Championships saw some impressive racing from all our riders.  Taupo BMX Club had 9 riders competing on the Sunday in the 12 and over 20" races.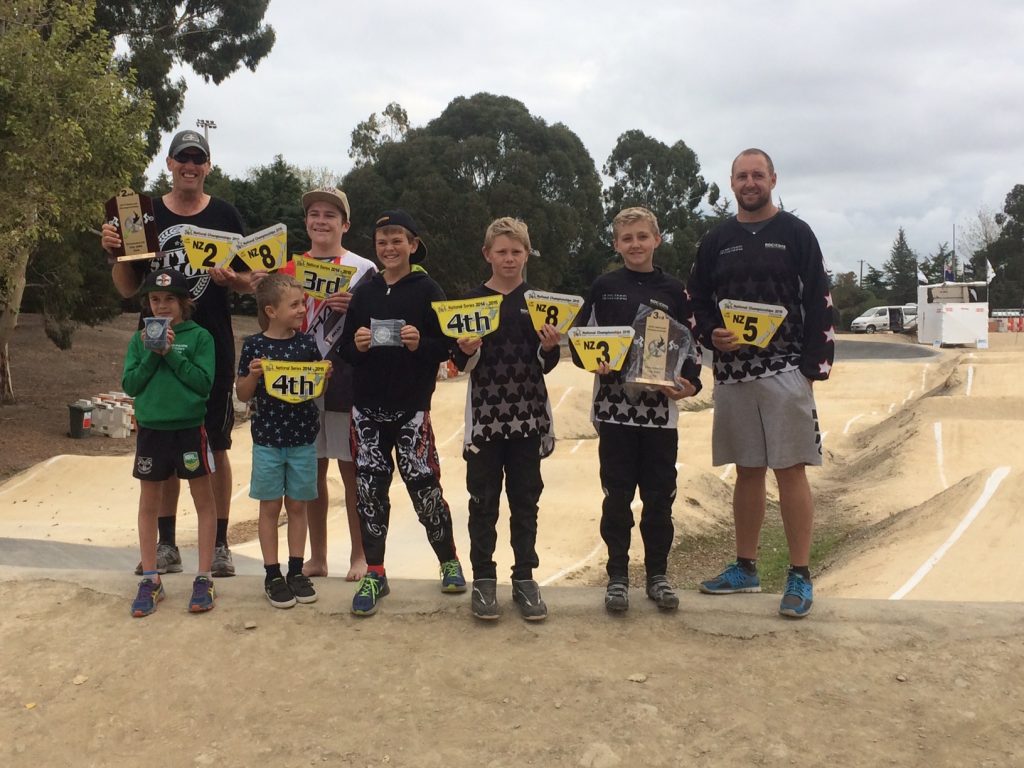 The day was started with the 12 Boys with Shannon Fox and Michael Ranford competing.  Shannon tried hard to make headway in his qualifiers, but was unable to take enough points to go through to semis.
Michael took easy seconds in all three of his qualifying motos.  Michael rode well in the semis with a 4th place cementing his place in the finals where he rode off with an NZ 8 ranking.
Jono Sargison and Rhys Halligan were next up in the race order with 13 Boys.  Rhys and Jono both made it through to the semi finals in their class with Rhys and Jono going head to head in the same moto.  Jono took out 2nd with Rhys not quite making finals with a 5th placing.  Jono raced hard in his final of 13 Boys gaining NZ 3 for the 2015 Nationals.
14 Boys saw Matthew Burns taking on some of NZ's best talent in BMX.  Matthew battled hard all morning and looked like he was on track to make semi finals, but a over manual saw him slip a few places in the race and unfortunately did not qualify.
Logan Hirst and Mark Harland-Croft put on a fantastic display in their 3 qualifying motos for 15 Boys.  Mark had a slip on the gate at the start of the 2nd moto making him 8th out of the gate.  Not to be beaten, Mark showed his skill and power making to to first place from behind the pack.  With both boys taking first places in each of their qualifiers, they also took firsts in their semi finals.  What was shaping up to be an epic final, Logan got the holeshot but went down in the first corner with Mark riding over top of him.  Nationals result was Mark NZ 6 and Logan NZ 8 with Logan needing new cranks and a new helmet.
Scott Sargison, continuing on his families tradition for this Nationals, took out second placings in his three qualifiers and a third in semis.  Scott finished with an NZ ranking of 5 in the 35-39 Male class.
The 50+ Male class provides for what at times, seems like nail biting, slow motion racing played out well for Taupo's Phil Simpson.  Following on from Phil's success at Alexandra for the 2015 South Island Titles, Phil again had strong competition from North Avon rider Roy Leaning with down to the finish line racing proving that phil was the stronger rider taking out two seconds and a third in qualifying.  With Phil's class being points over, Phil had the points to take out NZ 2.
National Series Winners
Michael Ranford 4th Place 12 Boys
Logan Hirst 3rd place 15 Boys
Mark Harland-Croft 4th Place 15 Boys