Steve Amrein has given a lot to the Taupo BMX Club — his expertise, his muscles, his money, but most importantly, his time, a lot of time.
Steve's been involved with the club at the committee level and as a rider for 13 years and so it was fitting when he was named a life member of the Taupo BMX Club at its recent annual meeting.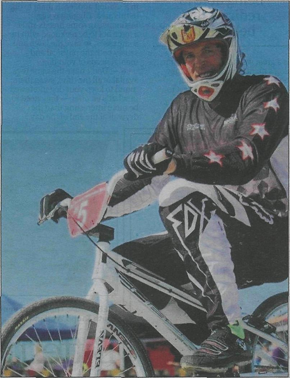 Forty-two-year-old Steve started riding BMX when he was seven, but gave up for 10 years when he was 14 and moved to Tauranga.  In his early 20s he started again, and when he moved back to Taupo in 2001 the plasterer quickly became involved with the Taupo BMX Club.  At that stage the club had only about 20 members and Steve soon found himself roped into being on the committee and other duties.  "It's just I love the sport and I wanted to see the club build up," he says.
The work Steve and other club members has done has paid off. The club now has just under 100 members and BMX popularity is soaring. In fact the Taupo BMX Club is the third biggest BMX club in New Zealand
Steve is still riding too. These days he rides in the 40-45 males cruiser class and made it to the semi-finals (top 16) of the BMX world championships in Auckland last year, the highlight of his career so far. He's also ridden in world championships in The Netherlands (2002) and Adelaide (2009), where he made the top 32 despite falling in the quarter-finals. He was in fourth place at the time.
Steve's helped organise sponsorship through the suppliers that he uses in his plastering business, who give him $500 or $1000 a year when he hits them up for money, and he's also happy to lend a hand with the physical side of the club. Steve redesigned the club's track and gate, and also got out to help build it.
"Because I've ridden for so many years and I went to the worlds in Adelaide, I came back with ideas to build the track here. But I've just been riding for years. There was a crew that came down [to build it] but I jumped on the track and was driving the truck."
Non-BMX people still tend to think it's for youngsters, Steve says, although there are plenty of men his age and older who ride and compete.  "People can't understand how I'd ride a bike. They think it's a kids' sport I suppose, but it's changing now that it's an Olympic sport. They realise that people that are 25 or 26 and over are still doing it."
Steve says one of the things he likes about BMX is that when he goes to BMX meets, he sees men he's ridden with since he was a young kid.  "There are heaps of us doing it . . . it's just one of those things that you get addicted to."
BMX is also a fast sport — races are one lap, and a lap only takes about 40 seconds. Steve keeps fit for BMX not only through lots of track time but also through gym work, RPM cycling, mountain biking and snow and water skiing.
Steve says being honoured as a life member was "a bit of a surprise". It's a particularly special honour, as Steve is the club's first life member.  It entitles him to his own name plate, free racing on Wednesday nights at the club and the end to annual club fees.  Steve's not resting on his laurels though. Next year the club is hosting the North Island Championships and as club vice-president, Steve's helping organise it. Last time the championships were held in Taupo, Steve won the title in his 30-35-year male cruiser class. He and Lance Hirst are also the club coaches.
Steve's passed his passion for BMX on to his children. Caleb, 11, did BMX for several years but has now switched to mountain biking, while Joel, 8, is a keen rider.
Laurilee McMichael
Taupo Weekender - Thursday, July 24, 2014