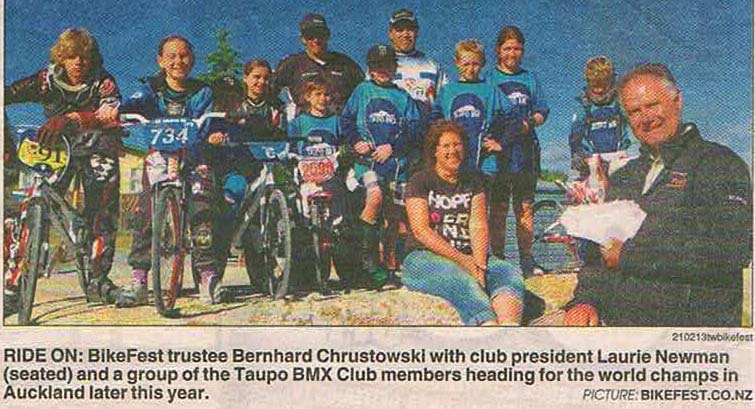 Taupo's BikeFest trust has dipped into its coffers to help encourage the district's top BMX riders to do their best at the world championships later this year.
Supporting the group of 13 local riders in their quest for international honours fulfils a key objective in the Lake Taupo Cycling Trust's guiding charter.
On Sunday BikeFest trustee Bernhard Chrustowski delivered cheques for $50 to each of the riders selected to represent Taupo at the world champs, which will be staged at Auckland's Vector Arena from July 24 to 28.
The funds are part of a residual amount held by the trust following the annual BikeFest programme of events before the Lake Taupo Cycle Challenge last November. The Taupo BMX Club held an open day and hosted pump champs at Spa Park as its contribution to the 2012 BikeFest week.
Bernhard told the riders who assembled for a regional hole shot meet at the club's Crown Park track that each of them could potentially be a future world champion, or Olympic titleholder.
"Sarah Walker was a young rider from the small Bay of Plenty m ill to wn of Kawerau and she went on to win a silver medal in BMX at last year's London Olympics," he says. "Any one of our local riders could be the next Sarah Walker."
The BikeFest trust's charter is aimed at fostering greater participation and involvement in all biking activities within the Lake Taupo district and Bernhard says the support given to the Taupo BMX Club riders helps to fulfil this objective.
"Our trustees believe that assisting local BMX riders to get to Auckland and compete against some of the world's best is an appropriate use of some of our reserve funds.
"The district's bike clubs all contribute a great deal to the week of activities duringBikeFest each November and while our trust does not have a lot of funding available, it is great to be able to give something back to the cycling community when we can," he says.
The Taupo BMX Club has grown over recent years and the BikeFest trust believes it will continue to attract even more members and supporters in future, Bernhard says.
"The members of this club are all very enthusiastic and we see BMX as being an activity that is healthy and gives the kids a sense of social belonging. Participation in BMX teaches them good bike skills, it challenges their adventurous spirit as well as their competitive spirit and it provides camaraderie."
Taupo BMX Club president Laurie Newman says the riders heading for Auckland in July are really appreciative of the support shown by the BikeFest as this will help meet accommodation costs for their week in Auckland.
For most of the younger members, being given a cheque has been an entirely new experience and everyone felt a sense of excitement and pride when Bernhard delivered them personally on Sunday.
"The kids were all pretty buzzed by getting their own cheques with their own names on them and our committee is very pleased too. It's great to have other community groups supporting our efforts to get kids onto bikes," Laurie says.
Taupo Weekender - 21 February 2013