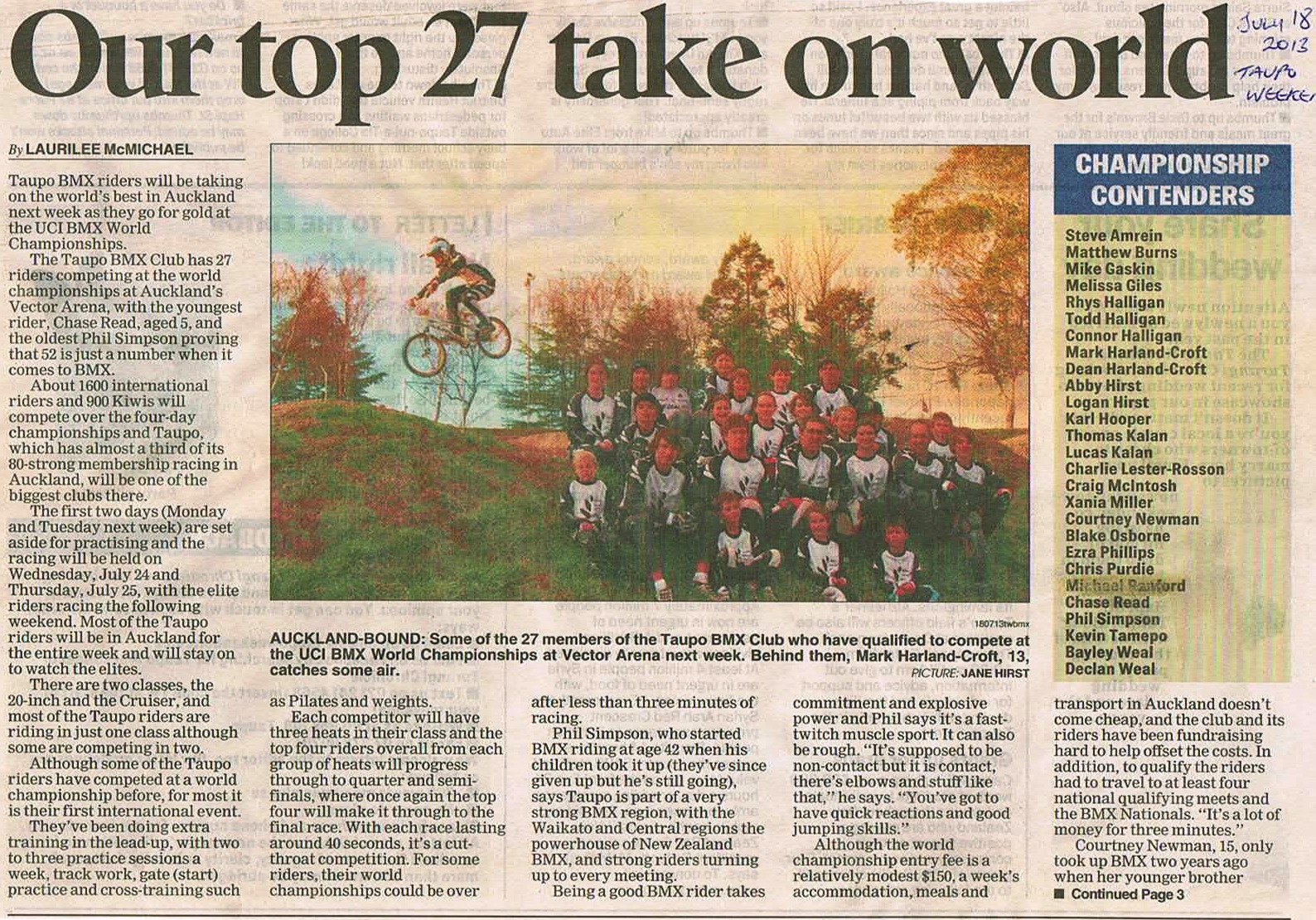 By LAURILEE McMICHAEL
Taupo BMX riders will be taking on the world's best in Auckland next week as they go for gold at the UCI BMX World Championships.
The Taupo BMX Club has 27 riders competing at the world championships at Auckland's Vector Arena, with the youngest rider, Chase Read, aged 5, and the oldest Phil Simpson proving that 52 is just a number when it comes to BMX.
About 1600 international riders and 900 Kiwis will compete over the four-day championships and Taupo, which has almost a third of its 80-strongmembership racing in Auckland, will be one of the biggest clubs there.
The first two days (Monday and Tuesday next week) are set aside for practising and the racing will be held on Wednesday, July 24 and Thursday, July 25, with the elite riders racing the following weekend. Most of the Taupo riders will be in Auckland for the entire week and will stay on to watch the elites.
There are two classes, the 20-inch and the Cruiser, and most of the Taupo riders are riding in just one class although some are competing in two.
Although some of the Taupo riders have competed at a world championship before, for most it is their first international event.
They've been doing extra training in the lead-up, with two to three practice sessions a week, track work, gate (start) practice and cross-training such as Pilates and weights.
Each competitor will have three heats in their class and the top four riders overall from each group of heats will progress through to quarter and semi¬finals, where once again the top four will make it through to the final race. With each race lasting around 40 seconds, it's a cut¬throat competition. For some riders, their world championships could be over after less than three minutes of racing.
Phil Simpson, who started BMX riding at age 42 when his children took it up (they've since given up but he's still going), says Taupo is part of a very strong BMX region, with the Waikato and Central regions the powerhouse of New Zealand BMX, and strong riders turning up to every meeting.
Being a good BMX rider takes commitment and explosive power and Phil says it's a fast-twitch muscle sport. It can also be rough. "It's supposed to be non-contact but it is contact, there's elbows and stuff like that," he says. "You've got to have quick reactions and good jumping skills."
Although the world championship entry fee is a relatively modest $150, a week's accommodation, meals and transport in Auckland doesn't come cheap, and the club and its riders have been fundraising hard to help offset the costs. In addition, to qualify the riders had to travel to at least four national qualifying meets and the BMX Nationals. "It's a lot of money for three minutes."
Courtney Newman, 15, only took up BMX two years ago when her younger brother Broden began riding, but now she's good enough to have qualified for the world championships' 15-year girls' 20-inch class.
She says she enjoys almost everything about BMX, but particularly the people she's met at the club and national meets.
"Everyone in our club are all like family and supporting you. And I've got a few friends in different places."
President Laurie Newman says Taupo is a friendly, family-oriented club and as well as the youngsters having fun, there's plenty of adults who ride too, although "more girls" would be good.
She says the club's world champs riders are grateful for the support they've had from the Mizuno Half Marathon Trust, Bikefest, the Taupo Sports Advisory Council and the local community.
CHAMPIONSHIP CONTENDERS
Steve Amrein
Matthew Burns
Mike Gaskin
Melissa Giles
Rhys Halligan
Todd Halligan
Connor Halligan
Mark Harland-Croft
Dean Harland-Croft
Abby Hirst
Logan Hirst
Karl Hooper
Thomas Kalan
Lucas Kalan
Charlie Lester-Rosson
Craig Mcintosh
Xania Miller
Courtney Newman
Blake Osborne
Ezra Phillips
Chris Purdie
Michael Ranford
Chase Read
Phil Simpson
Kevin Tamepo
Bayley Weal
Declan Weal