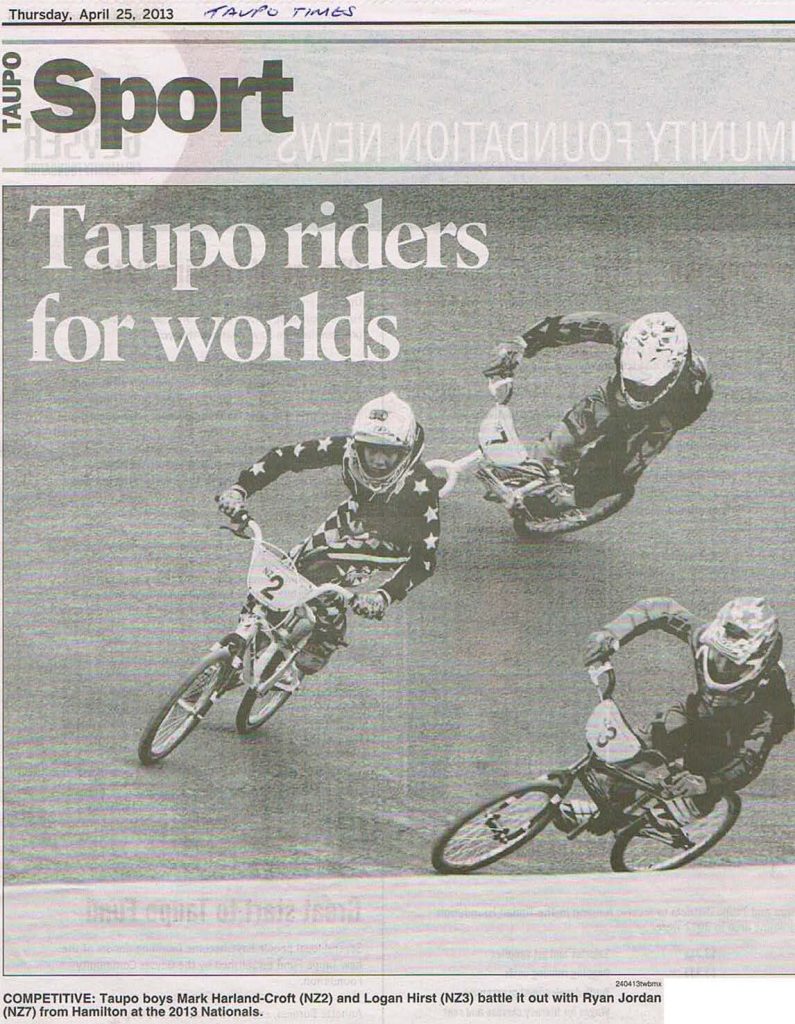 COMPETITIVE: Taupo boys Mark Harland-Croft (NZ2) and Logan Hirst (NZ3) battle It out with Ryan Jordan (NZ7) from Hamilton at the 2013 Nationals.
BMX New Zealand has confirmed that 22 of Taupo BMX Club's top riders have qualified to compete in the 2013 UCI BMX World Championships to be held at Vector Arena in Auckland in July.
The Taupo BMX Club members will form part of a record-sized team of more than 800 New Zealand riders for a world title alongside about 2500 others from more than 30 countries.
BMXNZ has confirmed that the following Taupo BMX Club members have qualified to compete:
20" Class — Thomas Kalan, Declan Weal, Ezra Philips, Michael Ranford, Blake Osborne. Matthew Burns, Logan Hirst, Mark Harland-Croft, Matt Ellison, Mike Gaskin, Chris Purdie, Todd Halligan, Connor Halligan, Abby Hirst, Bayley Weal, Charlie Lester-Rosson, Xania Miller, Courtney Newman.
24" Cruiser Class — Craig Mcintosh, Kevin Tamepo, Steve Amrein, Melissa Giles, Rhys Halligan, Mark Harland-Croft and Phil Simpson.