Prize Giving
Prize giving will be on Sunday 25th August - this weekend. It will be held after BMX at the Tauhara room at Suncourt Hotel and Conference Centre from 2pm. The bar will be open and there will be sausages and soft drinks for the kids. Come along and take the chance to relax and catch up with others in a social setting. Note that only paid-up members will receive prizes.
King Of The Ring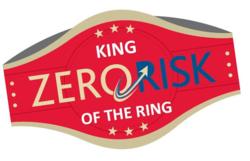 Taupo BMX Club has been selected as one of the beneficiaries of the King of the Ring charitable trust this year. For this, we need a team of helpers on 7th December. If you are available to help out, please e-mail Anne-Marie - info@taupobmx.org.nz
Worlds Roundup
It was a hectic week in Auckland with Logan Hirst taking out the only world ranking for Taupo BMX Club coming 6th in 13 boys. Well done Logan!
All other Taupo riders rode exceptionally well against a strong field of riders.
Training
Lance will be running training specifically for all riders over 8 years old and for Sprockets who travel away for meets. Training will be held on Tuesday nights from 5.30 till 6.45 and starts on 27th August with a skills night. $2 per training session per rider please. Full race gear is to be worn at all times. Flat pedals (not clip shoes) for the first night please. NOTE: Parent help is appreciated and required! This is not a baby-sitting service!
Sprocket and new beginners training will be advised in due course.
North Island Titles - Entry's
North Island Titles are CLUB ENTRY ONLY so all entries have to come to through the club to be processed.
Can we please have entry forms and money to us by the 18th September so we have a few days to get them sorted before entries close on the 23rd.
Number plates will be randomly issued again. If you want to race with your 2013 National 1-8 number or 2012 North Island 1-8 number please put it on the entry form otherwise you will just get a random number.
This is also an NQM so will count as one of your 4 NQM's to do the Nationals at Easter in Tauranga.
If you have any queries please email jane@taupobmx.org.nz
Mighty 11's/Test Team
If your child is in the Mighty 11's or involved in the Test Team, please let Anne-Marie know so that we can help support them.
Working Bee
Thanks to everyone who turned up on Saturday - your help was much appreciated. We were able to give the track and grounds a tidy up.
A special thanks goes out to Scott Read for his work in getting the new water mains finished. We now have a huge water feed around the track to help with the watering over summer. Hynds Pipe Systems generously donated the pipe and fittings to the club. Please help us out by supporting them.