Taupo BMX Club riders had to battle against not only other riders but also poor weather conditions at the 2014 BMX New Zealand National Championships in Tauranga this month.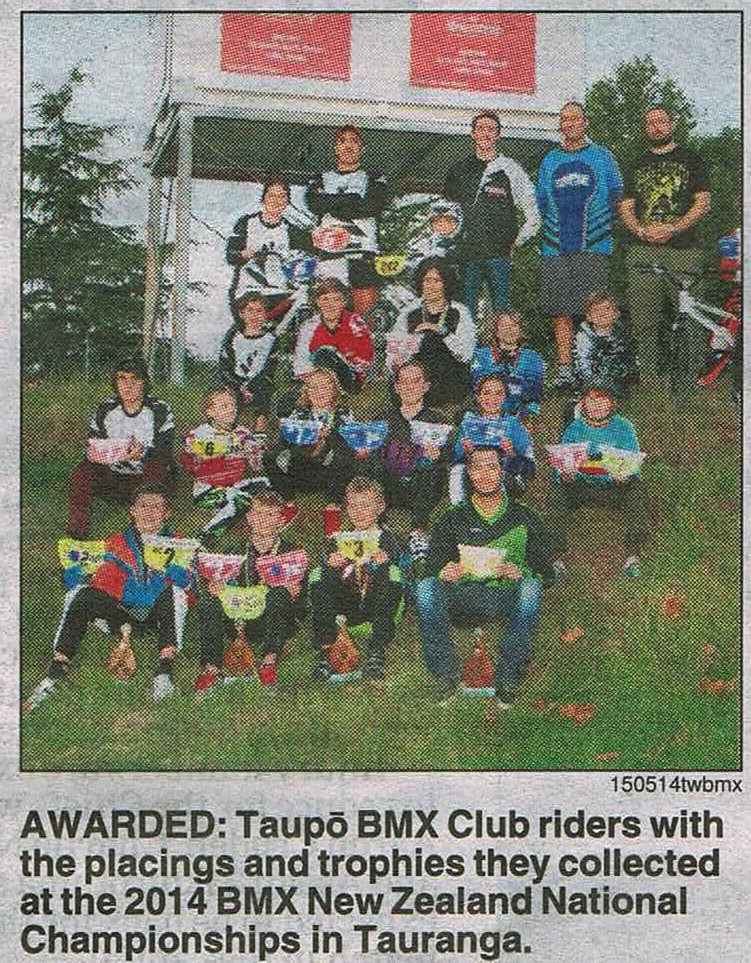 Some 31 riders entered 38 different classes at the champs, with 17 riders placed in the top of their class and several top-three placings, including Charlie Lester-Rosson who is New Zealand number one in the 12-year girls class.
Poor weather saw the track closed for practice riding on the Thursday and Friday before the champs, leaving all competitors with minimal practice time.
In trials for the Mighty 11 test team that will travel to Australia to compete against the Australian Mighty 11 test team later this year, Taupo rider Rhys Halligan narrowly missed out on the team but his final position is currently being reviewed by BMXNZ. There is a possibility that he finished 5th overall which would make him first reserve if any of the other riders get injured between now and travelling.
Because Saturday's seeding races were cancelled, Sunday's programme was modified to allow all riders to race in three randomly selected motos followed by eights, quarters, semis and then finals depending on how many riders were in each class.
Some riders had up to seven races.
Clearer weather made for an awesome day of thrills and spills on the track, unfortunately the weather turned nearing the semis and finals resulting in challenging conditions and a few more spills for those that made it that far.
Results:

Rhys Halligan, 12 Boys NZ-7;
Rhys Halligan,ll-12 Cruiser Mixed, NZ8;
Todd Halligan, 13-14 Cruiser Male, NZ-7;
Logan Hirst, 14 Boys, NZ-2;
Charlie Lester-Rosson, 12 Girls, NZ-1;
Craig Mcintosh, 40-44 Cruiser Male, NZ-3;
Xania Miller, 12 Girls, NZ-4;
Courtney Newman,16 Girls, NZ-6;
Courtney Newman, 13—16 Cruiser Female, NZ5;
Michael Ranford, 11-12 Cruiser Mixed, NZ-2;
Zara Ranford, 8 Girls, NZ-7;
Bennett Sargison, 6 Boys, NZ-6;
Jono Sargison, 12 Boys, NZ-3;
Kylie Sargison, 30-39 Cruiser Female, NZ-4;
Phil Simpson, 50 + Male, NZ4;
Phil Simpson, 50 + Cruiser Male,
NZ-6; Kevin Tamepo, 35-39 Cruiser Male, NZ-6.