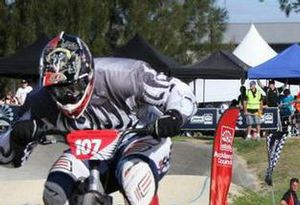 "What are you doing riding on a bike?"
"Isn't that bike too small for you?"
"Don't you play rugby?"
Kevin Tamepo's heard it all. But even though he was born and raised in Turangi, is a former national BMX champion and has represented his country overseas, it seems that the sight of a grown man riding a BMX bike is just too much for some locals.
But the affable 37-year-old just laughs it off - and he usually has the last laugh too. He's been competing at the elite BMX level ever since he won his first New Zealand title and headed to the world champs in Orlando, Florida, when he was just 12 years old. His BMX riding has taken him overseas, he's raced in the United States and his most recent overseas outing was riding for New Zealand at the BMX world championships in Adelaide in 2009.
Kevin's latest national competition was the BMX championships at North Harbour, Auckland over Easter weekend, where he placed 5th in his 35-39-year-olds cruiser class.
That means he's been BMX racing for 30 years, riding with BMX clubs in Turangi, Tauranga and most lately in Taupo, the Turangi BMX club having folded 16 years ago.
Kevin took up BMX when he was aged seven, at his family's insistence, who said he could have a bike if he put it to some good use.
"The only way I could get a bike was to race," he recalls. "They [dad Norm and mum Emily] were both in agreement on that. I couldn't be like other kids. It had to be used for something more than just playing around on."
So Kevin joined the local Turangi BMX Club and was immediately successful.
"Yeah, I was creaming it from day one," he laughs. "I don't think at that age I was competitive until I started winning. And when I started losing, it was a different story. I was a very bad loser in the beginning but over time, losing was just another race and I had to get over it really fast."
BMX tracks are between 300m and 480m long so they call for strength and speed in short hard bursts - in the Elite class they can hit speeds of 55-60km/h.
That trip to the world championships in Florida in 1987, where he made the top 36 riders out of a field of 98, was the beginning of Kevin's international BMX racing career. He went on to win four more national titles and at age 17 he had the chance to enter the Pro-Am (Elite) class, the top class in the country and the only one with the opportunity to win some decent prize money.
Money's been the perennial problem. Kevin raced for Mongoose NZ for four years but couldn't afford to race full-time on the US circuit. And although he's qualified for plenty of world championships, he's only been able to attend those he can afford to get to.
He left Turangi at age 19 and found university life didn't mix well with training. In fact, at about age 25 he tried to give up BMX but found he couldn't.
"It's like an addiction. You always want to go back to it."
As well as riding, Kevin also coaches and when the Taupo BMX Club needed help to get back on its feet, he stepped in, holding the presidency for several years.
Kevin's career in hospitality (he is currently front office manager at Tongariro Lodge) has been difficult to mix with racing because of the shift work.
Despite that he's as keen as ever on BMX and gets to a race whenever he can. He works out at Advantage Gym and does road sprints to keep race fit.
"I really like it," he says of his love for the sport. "It gives me direction. I can set goals for what I want to do.
"The adrenalin is there when you get on the gate and when you know that there's eight riders that could get first and it's whoever gets to that line first. Not always the best rider wins on the day."
But what Kevin calls the "win at all costs" approach has come at a price, in the form of injuries. Fractured pelvis. Fractured vertebra, concussion, broken ribs, broken fingers. And with the jumps getting bigger and scarier, the potential to crash is real. But Kevin asks himself: if he jumps the jump, will he win the race? If he doesn't jump it, will somebody else win it?
The proudest moment of Kevin's BMX career funnily enough, didn't occur on a bike. In 1998 he led the haka for the New Zealand team in Melbourne at the world championships in front of some of the legendary BMX riders from around the world.
"We had just over 100 people doing the haka ... it's the highlight of my racing days."
He says he's considered retiring but then wonders what else he'd do. And there's plenty of other racers his age still around - there were 20 in his class at the Easter races.
"I'm just going to keep at it because I love it and I find it fun."
(Taken from Rotorua Daily Post : http://www.rotoruadailypost.co.nz/news/bmx-kevin-tamepos-heard-it-all/1061459/)