As Easter weekend draws near, BMX riders from all over the country are preparing to descend onto Isobel Hooper Raceway at Kyle Park in Christchurch for the 2015 BMX New Zealand National Championships.
This year, the Taupo BMX Club is sending a strong contingent of riders hoping to do well in what is the pinnacle event on the BMX calendar. This year sees a new format being tested with different classes being run on separate days with months of training resting on one day's performance.
Two Taupo riders, Michael Ranford and Shannon Fox will on the Friday, be trialing for the Mighty 11's Test Team which if successful, will give them the opportunity to represent New Zealand in up coming trans-Tasman events. This is a great chance for these two young local riders to do their club and themselves proud.
Taupo has only ever had two other riders make it into the Mighty 11's – Current Taupo BMX Club rider, Mark Harland-Croft and former Taupo, now Tauranga Club rider, Charlie Lester-Rosson.
A team of 18 experienced riders from the Taupo BMX Club will be heading south to race on the 3rd, 4th and 5th of April.
7 Boys                                     Bennett Sargison
9 Girls                                     Zara Ranford
9 Boys                                     Ezra Phillips, Declan Weal
11 Girls                                   Abby Hirst
12 Boys                                  Shannon Fox, Michael Ranford
13 Boys                                  Jono Sargison, Rhys Halligan
14 Boys                                  Matthew Burns
15 Boys                                  Logan Hirst, Mark Harland-Croft
30-39 Male 20"                    Scott Sargison
50+ Male 20"                        Phil Simpson
11-12 Cruiser Mixed             Michael Ranford
13-14 Cruiser Male              Rhys Halligan, Matthew Burns
30-39 Cruiser Female         Kylie Sargison
15-16 Cruiser Male              Todd Halligan, Mark Harland-Croft
40-44 Cruiser Male             Kevin Tamepo, Steve Amrein
50+ Cruiser Male                 Phil Simpson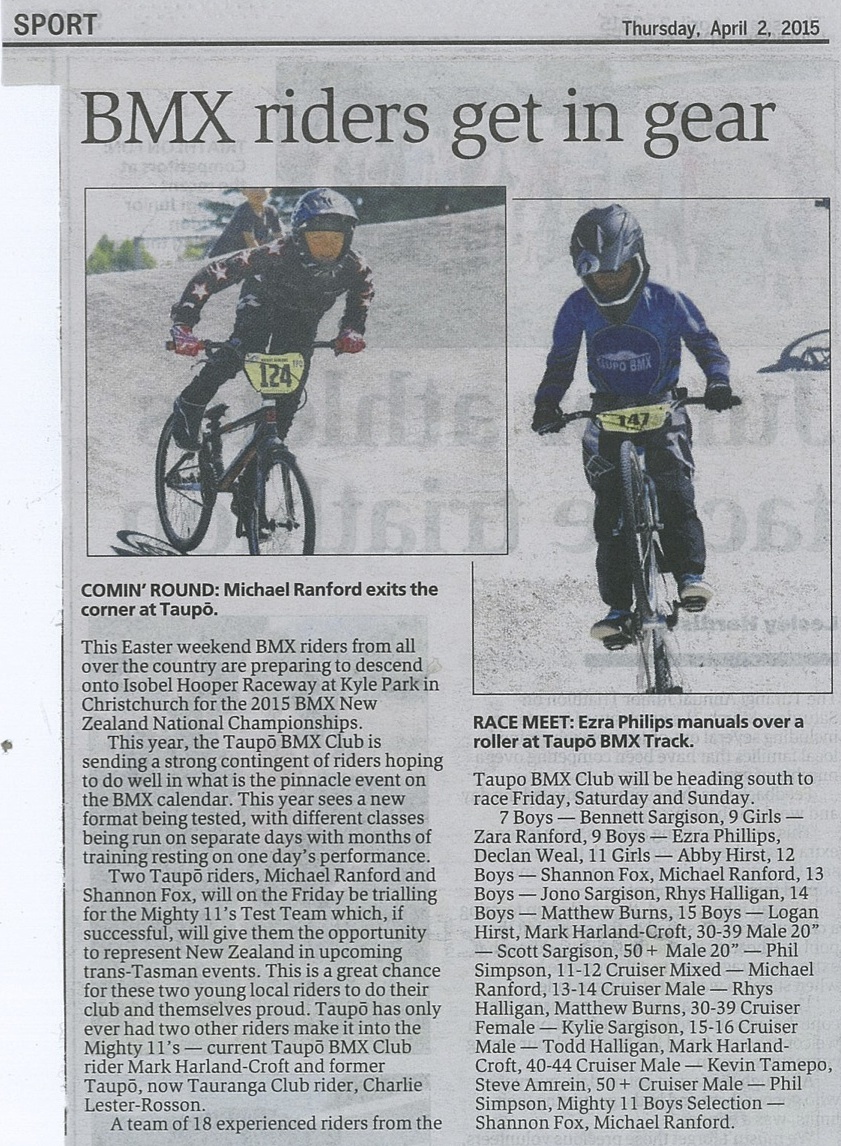 Mighty 11 Boys Selection     Shannon Fox, Michael Ranford