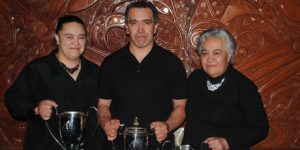 BMX LEGEND: Kevin Tamepo (centre) with all his trophies from the Turangi Sports Awards 2013, a proud moment for mum, Emily (right) and sister Marama (left).[/caption]
Applause and tears of joy broke out as Kevin Tamepo was announced the Premier Award recipient at the Turangi Sports Awards last Saturday.
Mr Tamepo was humbled to accept the award and also shed a few tears himself.
'I never thought I would get this, it is very special to even be nominated and very important to be recognised in your sport. I do this for all the people who have backed me."
Mr Tamepo said he was speechless and grateful to be honoured in his sport, BMX.
"Ever since the first sports awards in '98 this is one of the awards I have been striving for.
"You've just got to keep going, I'm going to keep going. My goal is to still be number one."
It has been a lifetime full of pain and agony to get where he is today, he says.
"It's been a year of very hard work with heaps of support."
After receiving each award, Mr Tamepo always thanked his mother Emily and sister Marama.
"It will always be them, without them I couldn't have done this."
Mr Tamepo says he has been liaising with the local schools to get bikes back on the agenda.
"I'm doing some work at the moment with getting bikes in schools and getting kids back on bikes - actually just getting them on bikes. You always have to give back to the kids."
As well as the Premier Award, Mr Tamepo was presented with Coach of the Year and Sportsperson of the Year.
Another stand out of the night was Whaiora Raharuhi who won Junior Sportsperson of the Year and Junior Dedication to the Club.
Turangi Tongariro Sports Foundation chairperson Anthony Hemopo spoke before the awards got underway saying Turangi "punches above its weight in sport". That night, the award recipients proved it.
Nominees, their families and guests were treated throughout the night to entertainment by Aaron Moeke and the OKKrew.
The theme for this year's sports awards was service.
Event organiser Lesley Hardisty says the service sports clubs do in the community help build healthy, well-balanced communities.
"[They] keep children occupied and teach them life skills along the way and provide and encourage camaraderie, friendships and incentives that are the social glue within communities.
"Where would communities be without their sports clubs?"
By Chloe Winter