There's been heaps happening this weekend at the track and of course, the berms are getting sealed! Read on for important information!
---
Important Track UPDATE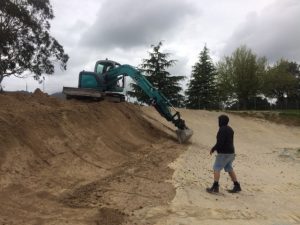 Due to the contractors starting to seal the berms tomorrow, the track is CLOSED. This means absolutely NO RIDING and please, no unauthorised people are to be inside the confines of the fence. The only exception to this will be for the track crew and their 'testers' working on the shaping of the 1st Berm. The gate code has been changed and you will be advised of the new code when the track re-opens. If you need/want access for any reason, please call the track phone - 022 306 9686 (NO TEXTS).
TRAINING: Both Sprocket and Lance's training are this week cancelled.
CLUB NIGHT: This Wednesday is cancelled. If you want your racing fix before Norths, head on over to Rotorua Bmx Club for their Club night on Wednesday! We will keep you all updated as soon as possible on the progress and thank for your understanding! Taupo BMX Club
---
Fundraising Opportunities

Fireworks

Taupo BMX is once again selling top quality Bad Boy Fireworks thanks to Lisa and Craig Halligan. To be able to do this successfully, we need YOUR help selling these.
Dates that we need people to help are between 9am - 9pm are:
Sunday 2nd November
Monday 3rd November
Tuesday 4th November
Wednesday 5th November
Please contact Lisa on 0274 372 558 or email halligan.family@xtra.co.nz with times that you will be able to help. Every little bit helps and it is a lot of fun as well as being a major fundraiser for the club. All fundraising goes towards the upkeep and running of the club for ALL Taupo BMX Club members to enjoy.
The Lakesider
The Lakesider is happening again on the 29th November and we have been given the opportunity to help out again. This is a fantastic fundraiser for the Club, but can only happen with YOUR help.
We need people to help with marshalling and a few other jobs from 12pm till 3pm. Please let Anne-Marie know if you can help. (secretary@taupobmx.org.nz). You'll get a free T-Shirt and a sun tan for your troubles! (Suntan not guaranteed).
---
Up and Coming Events
BMXNZ fliers for race meets can be downloaded from here: https://taupobmx.org.nz/event-flyers.html
October 25/26 - North Island Titles - SUNSET COAST
November 8th - New Plymouth Classic - HAWERA
November 8th - Hawera Twilight - HAWERA
November 16th - Hamilton Back to Back Meet - HAMILTON