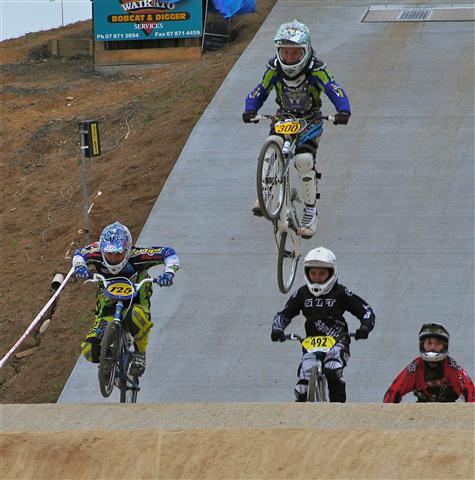 Hi everyone
The last two months have been busy for me as we are right in the middle of our race season and building up to the Nationals in Rotorua at Easter.
I had a couple of weeks off my bike over Christmas and New Year and enjoyed our camping holiday at the water ski club.  This summer I learnt to wake board and wake skate and improved on my single skiing heaps.  Some of us also had some coaching at going through the junior slalom course, hopefully we will be good enough to go away and do some inter-club competitions next season.
January I went to Puni for the Northen Region Champs.  After being pushed off the track in the last corner of the final I ended up finishing 4th.  The following weekend I attended the Te Awamutu Grand Prix,  my aim was to jump the 1st jump in every race and managed to jump 7 out of 8 races so was pretty stoked as I was the only one in my age group to jump it in a race.  I finished 1st in 12 year Boys.
In February we had our annual Taupo Race meet where I also won the 12yr Boys age group. The next weekend I attended the UCI Race Meet in Cambridge and raced in the 12-13yr mixed I finished 2nd behind a 13 year old.  The following weekend I went to the Te Kuiti Twilight Race meet it was touch and go as to whether or not I would race as my forks on my bike were starting to break but managed to borrow some and got my bike back together just in time to race.  I finished 1st in the 12 Boys final.
Last weekend I attended the Waikato Region Champs in the weather bomb, BMX hardly ever gets cancelled. Over the weekend we raced three tracks over two days,  Saturday we raced 4 races at Hamilton then 4 races in Te Awamutu and on Sunday we had four races and finals in Cambridge.  I was unbeaten all weekend and am really happy with I am at at the moment a month out from the Nationals.
I am now using the next month to build up to the Nationals with lots of training and getting over to Rotorua to
get some track time on their track as this is where the Nationals are being held at Easter.  The 2012 Nationals
is my first opportunity to qualify for the 2013 Worlds Champs to be held in Auckland next year.
Thank you all again for this opportunity to be part of the scholarship this year.
Cheers
Logan