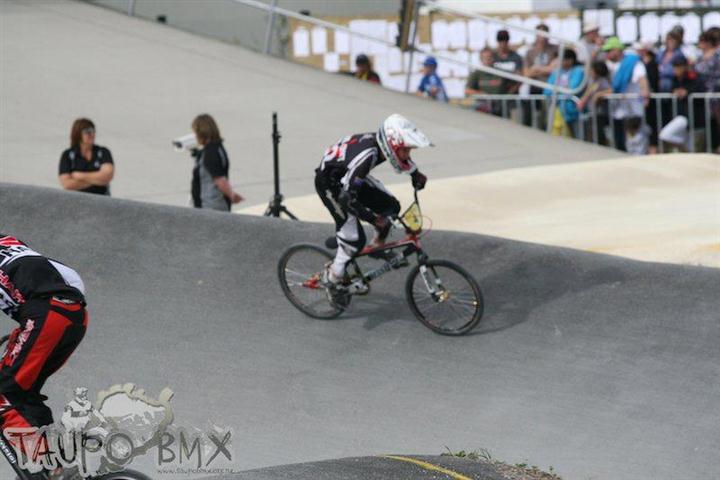 Last weekend was the 2012 BMX NZ National Championships, held in Rotorua. There were 924 entries with riders aged between 4 years and 60+years. I was racing two classes the 12 and under boys Cruiser (24") and 12yr boys 20". This event is the climax to the BMX calendar. My goal, of course was to attain NZ 1 in both classes.
I had 40 other 12year boys in my 20" class to race and beat. There were 3 motos on Saturday this was to seed the riders for Sunday racing. On Saturday I raced six motos in total and finished unbeaten.
On Sunday I continued my success and after a further six motos I retained my unbeaten record. It was time to step up a gear. Through the quarters and semis I still withheld my unbeaten record.
In the final, I had got out of gate fast, but it wasn't fast enough and I was cut off out of the gate and was unable to get out infront. On the second straight I jumped low and landed fast into the corner and managed to take second spot. Unfortunately I was unable to quite catch the rider with the lead and I had to accept 2nd place. So next year NZ 1! BUT, I still had my final in my 24" and I was confident that I was going to be successful which I was and achieved NZ 1 for 24" under 12 Cruiser. Over the weekend I raced and won 15/16 races. I was pretty happy!
Although BMX is my main focus I also participated in the school sports and achieved some cool results. I won the year 7 Bay of Plenty/ Waikato School Triathlon Champs and in the Schools National Triathlon Championships at Karapiro I came 9th in the individual and my team came 2nd.
My focus is now training towards the 2013 BMX World Championships in Auckland where I will endeavour to attain podium finish.