Charlie Lester-Rosson hit the ground running last year when she started competing as a BMX rider and never looked back. KIRSTY LAWRENCE caught up with her to see how the season was treating her and what the future had in store.
THREE regional championships down and BMX rider Charlie Lester-Rosson is well on her way towards her goal of riding at the 2020 Olympics.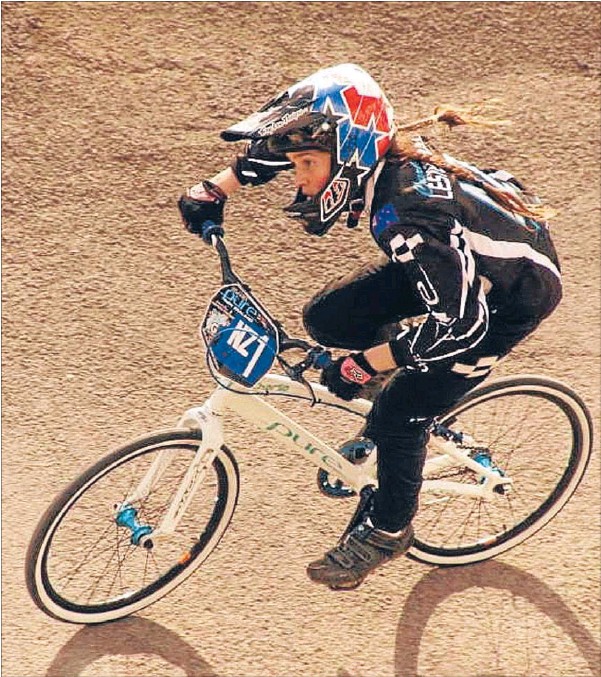 The driven 12- year- old was happy to have gained her first place results at the Central Region, Taranaki and Waikato championships.
She said she just focused on turning up to the events and riding the best she possibly could.
''There was definitely a lot of hard racing and it was quite close; I wasn't getting straight first [placings].''
Charlie plunged head first into competitive BMX riding last year; she said this time around the process had been easier.
'' It wasn't as stressful this time.''
This season her racing also came with another responsibility; he role as a member of the Pure Black New Zealand team.
All of the riders in the team gain points for their places in races, which are added up to try and help them win the Dalliston trophy for New Zealand.
''I've wanted to be in the Pure team since I was eight but when I got in that was pretty big for me and it was a pretty good feeling. It is so much fun.''
All of the other riders in the team are world ranked so Charlie said she was learning a lot racing with them.
Even with a competitive streak, Charlie was also recognised recently for her kindness, when one of her BMX friends, Niamh Masson crashed at an event.
Such were her injuries, Niamh's New Zealand Mighty 11 top had to be cut off. Charlie said that as the Mighty 11 tops are one-offs she decided to gift Niamh her top as she now had her Pure top to wear when racing.
Next on Charlie's calender will be the North Island competition leading up to nationals in Christchurch later in the year.
Charlie and mum Rachel are now fundraising to get her there.
Anyone who wants to help out can contact Rachel on racheldfl@xtra.co.nz
28 Oct 2014, Taupo Times