Well I do believe it is Spring, the weather improves together with not having to wear quite so many layers on the bike, which saves on washing and this is a good thing!! As always we have lots on the go at Bike Taupo and I have to say, being a keen mountain biker that the tracks are riding fantastically well especially all the new little tweaks and additions that have been added. Check out the changes to Coaster, big THANKS to Carwyn May and Cheal Consultants for the work done last week on this track. If you havent had the opportunity to ride Steamfields yet then you are in for a treat when you do, the new downhill section is great, and remember that your membership is what helps get this done. So, speaking of which, please keep in mind that membership renewal will be from 1st January 2015 and we would like to encourage you to do this online when the time comes as it is easier for all concerned, especially when it comes to trying to read some peoples hand writing!!
Our new tag design for next year (as per photo) looks great and is light as a feather so will not slow you down at all even going up Grinder!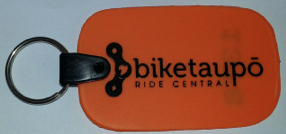 We have a brilliant opportunity for anybody out there who would like to "sponsor" this lovely looking piece of plastic with a business name/logo on the reverse side, great advertising to a wide audience to all our members for the sum of $2000.  Our sponsor can choose any colour tag they would like.  First in first served, email me at admin@biketaupo.org.nz.
Cheers, Melissa
---
Words of wisdom from our Leader
Welcome once again to our latest edition of Pedal Talk. I have been loving the recent weather, the cool crisp mornings and blue sky days with that iconic view across the lake towards the volcanoes of Tongariro National Park. Perfect Taupo days that are best enjoyed on your bike, whether it is ripping it up on our world class single tracks, out on the tarmac getting some K's under your belt, with the family on the Lions Walk or simply in your daily commute there is always a reason to enjoy our piece of paradise on two wheels. Days like these remind me why I love living here.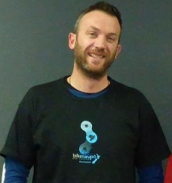 Since our last PT, work has been ongoing keeping the tracks up to their usual high standard, building a few more and putting heaps of kids on bikes. We have a few big and exciting projects that we are working away at currently and we will let you know about these as they progress. We have also had a good look at our membership scheme and we will be making a few changes to make it a smoother process for next year. As usual the committee, our contractors and all of our helpers have been putting in the hard yards to keep us moving forward. Our operations manager Pete Masters headed over to Europe for two months cycling from Prague to Nice. A great break for Pete and his wife and also a nice break for us from our hard working terrier!
On a less happy note, we were very sad to hear of the death of Ngaire George. Over the last 8 years we have worked closely with Ngaire and her husband Eru in ensuring that local hapu were closely involved in the development of the Great Lake Trail. Ngaire played a huge part in the development of the GLT and ensured that our team worked in a culturally safe environment. The large numbers at Ngaire's tangi reflected her importance locally and also nationally in the many facets of business and community undertakings that she was involved in. Thanks for everything you have done for us Ngaire you will be missed.
In our submission to the Taupo District Council Annual Plan, we asked for a review of the cycling strategy to reflect the importance that cycling plays in our District. While we were successful in other aspects of our submission, we were not so here. This is pretty disappointing and the limited response that we received did little to really address our points raised and seemed, in some places to miss the point completely. However, next year is Long Term Plan year and another chance to have a crack at this, we will let you know times when we can all be involved in this process as many voices are always better. In the mean time we will continue to work with TDC on a number of cycling safety initiatives.
And finally how exciting is it that Crankworks is coming to vegas next year!! this is awesome for Rotorua and it will also mean that we should have heaps of people checking out Taupo's trails as well. Mountain Bike Taupo and Bike Taupo will be working with Taupo District Council and Destination Great Lake Taupo to make sure that Taupo gets maximum benefit from this event as well.
Until next time, keep biking.
Ro
---
Track Crew News
W2K - Bruce has been around the Headlands Loop draining all the puddles and removing trees across the track. He has also done the same on track from Kinloch to Whakaipo 
Chinamans - Removed trees all the way to Kawakawa Bay'
Rotary ride - removed trees and cleared slips. Just put in Rotary ride realignment, Ladder bridge is finished and is much better to ride up hill and we are now moving over to rebuild the bottom of the Huka Lodge down hill plus a tidy up off the Paddy's bridge approach. If money allows we are going to do another alignment to make it more user friendly at the start of the track
Craters MTB Steamfeilds is up and running and has about 10 meters left to build but unbuilt part is rideable. Another big thanks to Eddie Edhouse and Chris Morris and his Sunday working bees which helped big time in getting the track completed in the timeframes taken. There will be some passing bays added on the uphill and a boardwalk constructed over the thermal area shortly. Tourist Trap is settling down after a tidy up in newly planted area and SH Fun is also is starting to ride well after a rebuild.Tankstand Downhill has been tidied up with new berms being added as well as fixing the old one
Track Crew Contact Details
Email trackcrew@biketaupo.org.nz
More info: http://www.biketaupo.org.nz/news/track-crew
---

Great big thanks to all the supporters of the Kids Bike Taupo Programme. Specifically Sport Waikato, TDC, Taupo Moana Rotary, Farmlands, Taupo Smash Repairs, Top Gear Cycles and the Bike Taupo Executive. I have volunteer help from Sarah, Nicky, Mel and numerous parents, teachers and adults who get stuck in. Phil Simpson is the Number One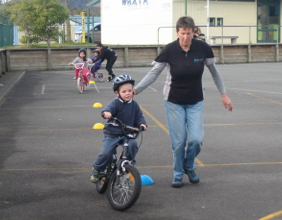 The biggest impact continues to come from the Random Ratbag BMX on a Monday afternoon until 5pm. Up to 50 or 60 kids can turn up there and it is excellent to have several families coming along too. These kids can ride and they love the chance to show off their skills on some decent equipment. Come along for a bit of fun.
TDC kindly nominated us for the Cycle Friendly award at the NZTA/CAN Conference in Nelson at the end of October. It feels great to be recognised, but now we have to organise the logistics of getting there under volunteer steam. TDC is doing some funding applications for us, so hopefully we can get to represent the district and see all the other good stuff people are doing around the country.
Have you checked out the new dirt jumps in Spa Park, by the Pump Track? They are called Spark Trails and have been built by a very energetic group of young people. Kids Bike Taupo has taken the TDC After School Programme there and also Year1/2 from Mountview School. What a blast the kids are having there! Imagine when that whole area is covered in jumps? It is bringing together all sorts of kids and they are working and riding their hearts out.
Bertha, the big van, has a new look. Taupo Smash repairs removed her 'antlers' and got her WOF worthy again too. She is also sporting new signwriting and almost looks flash...but not too flash. 'Keeping it Real!'
Thanks for everyone's support, and please come and visit a Kids Bike Taupo session if you see us out and about. The kids just love having adults to 'Watch me! Watch me!'
For any info or queries in relation to our Kids Bike Taupo programme, please contact Cath Oldfield at kids@biketaupo.org.nz
---
Taupo Mountain Bike Club  -  event update
Craters Multilap Race
Is all set for the 27th September Formerly known as the Clover & Connect 4. A fun affordable 4 hour event for all levels of experience. The event consists of 4 short loops you choose what ones you do, However the loops attract more or less points depending on the degree of difficulty, the team or individual with the most points wins the supreme title of the "Craters Multi lap Champion" This event has the potential to be bigger than Ben Hur, as it caters to such a wide range of riders including Business House / Corporate teams, school teams, Family teams, MTB chums teams and of course individuals. So get motivated and get your team organized mark Saturday 27TH September in your calendar.www.moutainbiketaupo.org.nz or Event Freak for more details. Taupō Mountain Bike Club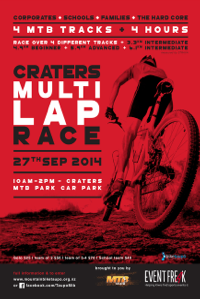 Crafty Trout Night series
Average of 50 have turned out for rounds 1 & 2 on fine but chilly Taupo evenings. Darrin Hall was on fire in round 1, taking line honours from Matt Jensen by a few seconds & Greta Donaldson continuing her winning form & still smoking Jonesey ?? The night series has really grown in popularity and great to see the social side developing with a good bunch of riders heading back to the Crafty Trout for the Huka Cycles spot prize draw as well as having Pizza & refreshments. Speaking of Pizzas Rebbecca at the Crafty Trout is doing $10 pre order Pizzas all you need to do is Phone Crafty Trout on 929 8570 before 5.00pm on the Thursday of night races and you will have a delicious hot steaming Pizza will be waiting for you when you get there, what service at a great price, Please come along and support our Sponsors
Urban Jungle MTB Ride
Friday 28th November 6pm – 8pm Tongariro Street
Again the MTB club is involved in hosting a fun & wacky MTB elimination style race. This event has taken place of the XC Eliminator that we have run over the past few years; the Urban Jungle race track is set up smack bang in the middle of Cycle Challenge Event HQ which is located at the events centre. This unique course design is safe & fun, really making for a unique riding experience that you won't want to miss. You actually will ride through the food / dining tent whilst Cycle Challenge entrants are eating there pasta?? As well as in and around the information Centre & Library Entries are strictly limited to 120 riders
• You Must Enter on Line at www.cyclechallenge.com > categories > urban Jungle MTB > enter online
• Note Minimum age: 13 years (11 – 13 years allowed if a current member of a BMX or MTB Club)
Mid North Island Cup
The event consists of 4 rounds being Taupo, Tokoroa, Napier, & the final being in Tauranga. Rotorua are unable to hold a round this year so We welcome Tauranga the series Note: The first round is kicking off in Taupo on the 12th October. More details to follow
National Series
NZMTB has confirmed that Taupo will hold host round 3 of both the National DownHill series & the National Cross Country Mountain Bike Series. This is great news for the club, and the Taupo community. Craters MTB park is starting to gain recognition as one of NZs premium MTBing destinations, hence NZMTB choosing Taupo to host a National event.
Saturday 31st January The Fast & Furious Downhill series will take place at the iconic purpose built Tauhara downhill track. This will be an awesome spectacle, with having the country's top DH riders in action. Then on Sunday 1st February The XC series heads to The Craters MTB park for what will arguably be the best round in the series.
Good news that these rounds are open to all riders not just the Elite's. So if you not riding we can presume you are injured or dead.
Round 1 - Wanaka Down Hill - Jan 10th | XC - Jan 11th
Round 2 - Christchurch Down Hill - Jan 17TH
- Wellington XC - Jan 18th
Round 3 - Taupo Down Hill - January 31st | XC ;Feb 1st
Round 4 - Clevedon (Four forty MTB park) Down Hill 7th Feb | XC 8th Feb
MTBNZ National MTB Championships
• Rotorua: Feb 14th - XC
• Rotorua: Feb 15th - DH
NB: The National MTB Championships is not part of the NZ MTB Series, it is a stand-alone event.
MTB Club Social Rides
Any One keen for the Queen Charlotte Sandy is taking names to ride the awesome Queen Charlotte at the top of the South Island. This is a spectacular ride and is well worth the effort, for dates & details Contact Sandy 027 6002181
---
Taupo BMX Club
CLUB DAYS
On Sundays registration at 12.30pm, 1.00pm racing.
Gate Night - WEDNESDAYS
For those of you who still want your Wednesday fix, we will be running gates (weather dependent) from 5.30 for about an hour or so. This will be a gold coin donation due to having to run the track lights as well.These times are flexible due to demand and notification will be via text and also on Facebook if there are any changes as soon as possible. If you are able to run the gate on Wednesday, please let us know.
Sprocket Training
Sprocket/Beginner training is still going ahead every Monday night from 5.30 thanks to Dion and Matt. If you are a Sprocket, then training is free and a great way to gain some skills. Ask in the points hut for more info.
Intermediate/Advanced Training
Lance is planning on starting his training around the end of this month or the beginning of September. More details to follow.
Up and Coming Events
BMXNZ fliers for race meets can be downloaded from here:
https://taupobmx.org.nz/event-flyers.html
• September 7th - CR Winter Series Finals TAUPO
• September 20/21 - Taranaki Region Champs HAWERA-NEW PLYMOUTH
• September 28th - Pre-Norths SUNSET COAST
See you at the track on Sunday afternoon!
Keep in touch with Taupo BMX Club: http://www.taupobmx.org.nz/ or Facebook.com/taupobmxclub
---
Taupo Cycling Club
Taupo Cycling Clubs' popular "Spring Series" is kicking off on the 30th September at the Taupo Motorsport park, first night is orientation and warmup, with racing proper on the 7th Oct. The event will run over ten weeks, All are welcome, non-members can ride twice at $10 per ride, after that they MUST become members of the club i.e. Bike NZ.https://www.bikenz.org.nz/ Kindly sponsored by Foremac LTD
Wednesday Night track  Ever wanted to try riding on the velodrome? On Wednesday nights the club have track coaches and bikes on hand.
Bring your pedals, shoes and helmet, and you can hire a bike on the night. Contact stephenholdsworth@vodafone.co.nz
Taupo Grand Fondo '14
The Taupo Cycling Club are running the very first Grand Fondo ride, at this stage a tentative date of the 19th October this is a 130 k ride and celebrates the ride more than racing. For more on this watch our Facebook page. https://www.facebook.com/taupocyclingclub
---
Helping you to avoid a traffic fine!!

Supplementary License Plates Police are finding many vehicles being driven with cycles on bike racks at the back. This is convenient and it is great that a family can carry all their bikes this way. Unfortunately, this often obscures the rear registraion plate and this is an offence. Although not the case for most people, a small minority commit criminal offences with obscured plates, so enforcement is required. Many people are surprised to find that the offence carries 25 demerits as well as a $100 infringement. Supplementary Plates are now available for around $20, so drivers can comply with the requirements.
The NZTA website h0p://www.nzta.govt.nz/vehicle/registra"on-licensing/number-plates/ supplementary.htm has more information on this.
---
Worlds biggest mountain biking festival coming to NZ

Mountain biking is getting the biggest shake up it may ever see in Australasia with the world's largest festival, Crankworx, rolling into Rotorua for the next three years. The phenomenon that is Crankworx, which also includes the Enduro World Series, will make its way to Rotorua from 25th – 29th March 2015, marking the first event on the professional racing calendar for the year.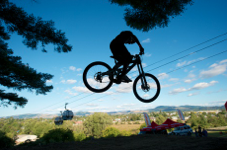 Crankworx Rotorua brings with it the best mountain biking pro-athletes for competitions, concerts, culture and cranking. Rotorua will be a part of the Pump Track series and will host Speed and Style, Slopestyle, Downhill and Enduro events over the five days. There will also be a raft of other events surrounding the festival for amateur and non-bikers, including a soon-to-be-announced music festival featuring top New Zealand artists.
Run in conjunction with Canadian owners Crankworx Events Incorporated (CEI), the local festival operator and organiser will be not-for-profit company Mountain Bike Events Ltd, a public-private joint venture of Rotorua District Council, Skyline Rotorua and Tak Mutu.
Event Director and owner of Multi-Day Adventures and Mountain Bike Rotorua, Tak Mutu, says Crankworx is the best it gets for mountain biking.  Sounds fantastic, watch this space!!
---
Another event to consider if you are the adventurous type!
White Water World,Rafting New Zealand's Taupo Base and home to the worlds first 4D White Water Cinema Adventure.
Take a virtual ride down New Zealand's most scenic rivers, plunge off waterfalls and feel the rush from running the rapids - all from the comfort of your special effects chair. This is a "must do"that virtually everyone can experience.
For rafting and adventure bookings and advice. , shuttles departing daily, superb Ozone Espresso, unique NZ adventure apparel and the awesome 4D Cinema Adventure your stay in Mount Ruapehu is not complete without a visit to White Water World Taupo.
Opening Hours 7 Days 9am - 7pm (Summer) 9am-5pm (Winter)
Whitewater world is also another outlet to purchase your memberships for next year!
Check out into for this event at http://www.greatlaketaupo.com/events/listings/River-Wild-Raft-N-Run-Team-Challenge
---
News flash...... especially for coffee lovers

Great news, the cafe at Helisika (formally the hub cafe) is re-opening.  This has been sorely missed for all our re-fueling post and pre rides not to mention the social aspect! They will also be sup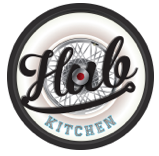 porting Bike Taupo with selling our memberships, so ........
Hub kitchen would like to invite all bike Taupo members to pop on by after your ride for a hub refuel, as part of our new role of supporters of bike Taupo we offer all members a 10% discount on food and drink at Hub Kitchen.
We are opening the 13th September and look forward to seeing you there
---