Team Taupo won the Central Region Winter series Taupo on Sunday. Taupo put on a fantastic day weather and race wise and we took away the coveted Central Region Helmet and the Central Region Shield - A first for Taupo since the series has been running. A huge thank you to all who competed not just on Sunday, but also at Rotorua, Gisborne and Tauranga rounds.
How the points tallied up:
Taupo 3501
Tauranga 3204
Rotorua 1896
Gisborne 1633
Hawkes Bay 789
Thank you to working bee helpers on Saturday. The track and grounds were perfect.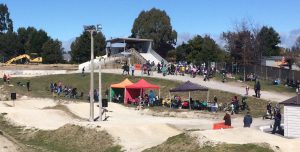 ---
Club Nights
Club nights return to a Wednesday on 1st October with the last Sunday being 21st September. So that riders get a bit of a break, we will now have a 10 – 15 min break between rounds 4 & 5.
Club points will resume on 15th October, and Club Champs will start on 8th October. More details on Club Champs attached.
---
Senior Test Team
Selection for the team is at the Pre Norths at Sunset Coast on Sunday 28 September. There is a strong field vying for a place in the team. Competition will be fierce as only 8 riders will have the chance to represent New Zealand in the Trans-Tasman Series.
Taupo BMX Club would like to wish Mark Harland-Croft and Logan Hirst all the best as they have been entered for the selection.
---
Training
Lance's training will resume on 16th September. This training is for 8 years and over, plus sprockets that are committed to travelling away. $2 donation is appreciated per trainee.
Sprocket and new beginner Training is on Monday nights @ 5:30. This training is free of charge, but Dion would appreciate some help from different parents. Please don't be shy to help.
---
Retaining Wall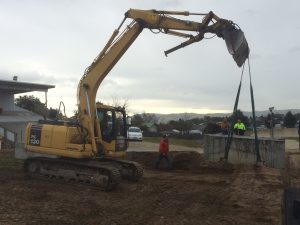 As you will have seen, the retaining wall is taking shape and has now spread out to the first straight. We however are short on blocks to finish the project and would like to raise some more money to purchase more blocks.
We would like families (or individuals) to donate a minimum of $20 and for that, your family name will be added to the sponsors plaque that will be affixed to the middle of the big wall for future families and members to see. Donate at the points hut on Sunday or to Westpac account: 03 0430 0249068 00. Use your Family name and add WALL as reference so we know where the money came from!
We would also like to thank Hawkes Crane Hire, E&J Contractors, Greg Martin, Helicopter Services, Hynds Pipes and all those people who lent a hand over the weekends to place the blocks.
---
Taupo Sports Awards
2014 Taupo District Sports Awards to be held on Friday 14 November at the Great Lakes Centre. See http://www.sportwaikato.org.nz/district_awards.cfm for more details. Entries close 10th October
---
BMX Coaching Clinic
Come and brush up on some skills as the new season kicks off at Mark and Logan's coaching clinic. Remember North Islands are just around the corner. There will be groups of a minimum of 5 and maximum of 10 riders (must be able to ride full track), sessions will go for 1.5 - 2 hours depending on numbers, $16 per session this includes a $1 donation per rider to the club for the gate.
Session dates and times for the next school holidays will be confirmed closer to the time. If we are available and there is interest we may run a session in the middle weekend. Where possible sessions will be split on ability. Come and have some fun and go away with a few more tips to make you even faster!
Please register your interest by 25th September, cash payment on the day. CONTACT: lance.jane@xtra.co.nz. Organisers have the right to cancel or postpone due to weather
---
Fundraising Opportunities
The Lakesider
The Lakesider is happening again on the 29th November and we have been given the opportunity to help out again. This is a fantastic fundraiser for the Club, but can only happen with YOUR help.
We need people to help with marshalling and a few other jobs from 12pm till 3pm. Please let Anne-Marie know if you can help. (secretary@taupobmx.org.nz). You'll get a free T-Shirt and a sun tan for your troubles! (Suntan not guaranteed).
Taupo Motorsport Park
We are looking for some volunteers to please help on the 27th and/or 28th of September for the Super Series at the Taupo Motorsport Park. We will be helping man the gate. You will need to be available 8am to aprox 3 pm. Again, please let Anne-Marie know if you can help. (secretary@taupobmx.org.nz).
---
Helpers for North Island Titles
Are you able to help for a little bit at the norths? They need volunteers for staging, starters, track/corner officials, commentators, finish line staff and Points hut. If you are keen to learn in one of the areas, let us know, and you can "Shadow" one the helpers to learn more
---
Race Shirts

We are in the process of organising some NEW Taupo BMX club race shirts. If you have a business (or know of one) and would like to get your logo on the shirts, let us know.
---
North Island Titles
The North Island Titles entries need to be in to Jane by 17th of September.
Please either give to Jane or email them - lance.jane@xtra.co.nz
You can pay the entry fee direct to the Taupo Bmx Club account if want too.
Westpac - 03 0430 0249068 00
Please use your Surname as a reference, and put Norths in Particulars. Once you have made payment please let us know.
---
Up and Coming Events
BMXNZ fliers for race meets can be downloaded from here:
https://taupobmx.org.nz/event-flyers.html
September 20/21 - Taranaki Region Champs HAWERA-NEW PLYMOUTH
September 28th - Pre-Norths/Mighty 11's/Test Team Selection SUNSET COAST
October 4th - Waitakere T-Shirt Meet - WAITAKERE
October 4th - Wainuiomata BMX Champs - WAINUIOMATA
October 5th - Hutt Valley Champs - HUTT VALLEY
October 25/26 - North Island Titles - SUNSET COAST