A YOUNG Taupo BMX duo are riding their way to the top after strong results at the New Zealand BMX Championships held during Easter in Rotorua.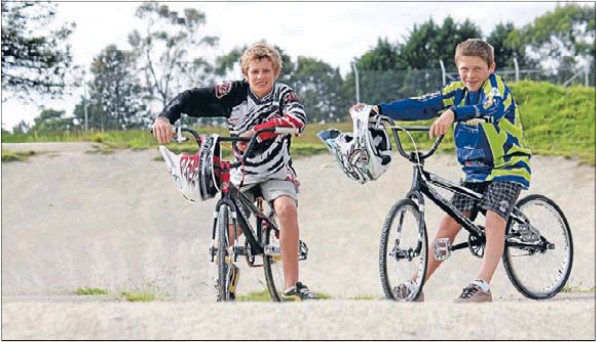 Mark Harland-croft and Logan Hirst had a successful weekend at the New Zealand BMX Championships in Rotorua at Easter.
17 Apr 2012 - Taupo Times - By LIBBY O'BRIEN

Mark Harland-croft, 11, and Logan Hirst, 12, collected a handful of trophies at the competition which attracted around 700 riders, including a number of world age group champions.
Both boys competed in the 12-year boys' 20-inch class with Mark finishing second and Logan a close third in a field of 40 riders.
Mark also competed in the 12 and under 24-inch cruiser class where he finished on top of the podium.
Their results from the nationals have given both boys a ticket to the 2013 world championships to be held in Auckland in July next year.
''Our focus is now the worlds and the stepping stones along the way will be competing in more competitions and aiming for podium finishes,'' Mark said.
Other Taupo Bmxers who finished strongly in their classes were:
Declan Weal who was third in the boys' 5-6 years class.
Kevin Tamepo finished second in the men's 35-39 years cruiser class.
Steve Amrein who was third in the 40-44 years men's cruiser class.
and Melissa Giles who was third in the women's 25-34 age group class.