Taupo BMX Club has won the bid to host the prestigious North Island titles to be held over Labour weekend 2015.
This event attracts nearly 600 entrants vying for a north island placing, with a lot of the riders expected to be in the Taupo district for 7 to 10 days around Labour weekend.  Being the second largest national BMX meet, the Taupo BMX track at Crown Park will become 'ezi-up 'city to the riders, their supporters and spectators, which, at times, is estimated to swell to over 2,500.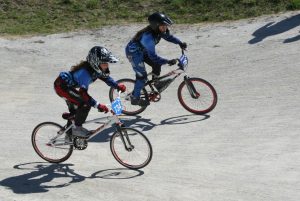 President, Laurie Newman said, "This is a fantastic opportunity for Taupo BMX Club to showcase not only our track, the new ramp and our riders skills, but also our beautiful Taupo district."
The North Island Titles meet also features Trans-Tasman racing with the Senior Test Team and the Mighty 11's from Australia competing.  In turn, placing's from those races will see New Zealand sending their Test Team and Mighty 11's competitors to Nerang in Queensland, Australia to race.
Laurie says "We have quite a few Taupo riders coming up through the ranks who will be taking part in the Mighty 11's.  They will have the home track advantage."
Michael Ranford, who is just one of Taupo BMX riders who will be trialing in the Mighty 11's in 2015 is looking forward to hopefully placing positively.   "I can't wait to race Mighty 11's on my home track.  I'm going to practice every day" he says.
Getting to host the North Island Titles is a dream come true for the BMX club.  "The Taupo track was re-designed and major earthworks took place in 2009 and the Club has been trying to secure a national meet ever since.  A big thanks goes out to past and present committee members that have all worked hard towards getting a major BMX meeting and made this possible.  We also wish to give a big thanks to BMX NZ for awarding us with the North's in 2015 and to the Taupo District Council for their support in our application" said Laurie.
The Taupo district stands to gain by the boost that having 600 odd entrants and their supporters brings to the economy.  Previous towns have estimated the economic gain to be in the vicinity of 3.5 million dollars.  Taupo being more central should make travelling easier for competitors and thus attract more riders.
Taupo BMX Club has also recently completed the building of their 3.5-meter start ramp.  This was attained with sponsorship from Lion Foundation, Southern Trust and Youthtown and is the result of years of hard work for members.  The starting gate has also been replaced with the help of Bay Trust.  All of this replaced the original start hill and gate that had been in place since the mid eighties.  This addition to the re-vamped track layout shows that the club is committed to advancing the skills of their riders.
If you are interested in joining BMX, then head along to Taupo BMX Club at Crown Park on Wednesday evenings at 5.30.  They have bikes and helmets available for hire and cater for all ages.  The track is also now open during weekends to give the general public a chance to try the track out with out at their leisure.