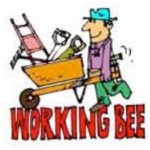 For the re-start of our Club Days on the 21st of August, we need help from as many people as possible to get the track and grounds up to scratch.  Remember the Central Winter Series is on the 28th here in Taupo as well!
Working bee starts at 10am, racing registration 2pm and racing starts 2.30pm.
SEE YOU ALL THERE!!!