Working Bee - 9th November
There will be a working bee this Saturday from 10.30am.  We have 28tonnes of lime arriving and would like as many hands as possible to help spreading, raking and rolling the track in preperation for our meet on 7th and 8th of December.  Bring a rake and a spade along if you can!
Fireworks
Thanks to everyone who gave their time over the last week to help out at the caravan as well as those of you and your friends who purchased fireworks from the club - we sold out of fireworks so it was a very successful fundraising effort this year!  A HUGE thanks to Craig and Lisa Halligan for tirelessly organising this again!
King of The Ring Fundraiser
Taupo BMX Club has been lucky to be selected as one of the organisations who will benefit from this event.  King of the Ring organisers will donate a sizeable sum to us and in return we need to supply 20 people to help at the event on the 7th December.  There are 4 hour shifts available - 2pm - 6pm and 4pm - 8pm.  You get to watch the fights and also have some great fun!
Please, if you can help us out on the night of the 7th of December, again, please e-mail Anne-Marie now to register your interest.  It is a great way to see the boxing and the entertainment for FREE!  (secretary@taupobmx.org.nz)
North Island Titles
Taupo BMX Club had a great weekend away at Te Awamutu for the North Island Titles and secured a record amount of titles.  Charlie Lester-Rosson also raced well in the Mighty 11's being only the second ever Taupo member to be chosen for the Mighty 11 test team.Well done to the following riders who secured North Island Titles:
Declan Weal - 7 Year Boys NI 3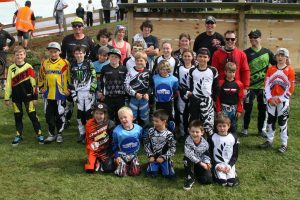 Abby Hirst - 9 Year Girls NI 8
Michael Ranford - 10 Year Boys NI 4
Xania Miller - 11 Year Girls NI 3
Bailey Weal - 11 Year Girls NI 8
Blake Osborne - 11 Year Boys NI 5
Mark Harland Croft - 13 Year Boys NI 1
Logan Hirst - 13 Year Boys NI 4
Courtney Newman - 15 Year Girls - NI 6
Michael Ranford - 8-10 Cruiser NI 2
Matthew Burns - 11-12 Cruiser NI 2
Mark Harland-Croft - 13-14 Cruiser NI 1
Todd Halligan - 13-14 Cruiser NI 6
Craig McIntosh - 35-39 Cruiser NI 3
Steve Amrein - 40-44 Cruiser NI 2
Phil Simpson - 50+ Cruiser NI 2
---
Up and Coming Events
All flyers will be uploaded to here:
https://taupobmx.org.nz/event-flyers.html
The 2013/2014 Race Calendar is here:  http://www.taupobmx.org.nz/events.html