Ramp Update
We are pleased to announce that after a number of delays weather wise, that it is nearly done.  The builder has indicated that he should be finished within two weeks.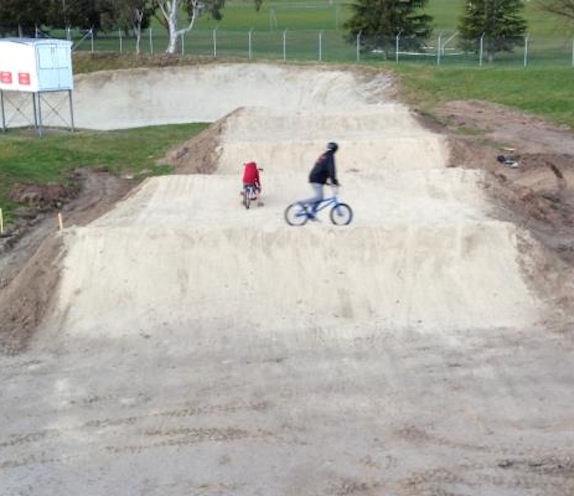 As of today, there is still one more pour of concrete to be done - this completes the starting gate pit and an additional 2 meters at the bottom or the ramp.  This will allow us to hopefully install and position the start gate this weekend.
The additional two meters is being added so that our new ramp complies with UCI regulations.  Due to the angle of new ramp, it was decided that the first straight had to be changed.
The first jump/double has been moved closer to the ramp and has been made a 7 meter double.  The middle of the jump has been shaped so that the younger riders will be able to jump into it and ride down the other side easily.  The last jump has been re-shaped into a step up/double.  Again, this has been done with all classes of riders in mind.
Club Days 
We are pleased to finally announce that club days will be resuming on the 17th of October with registration at 5:30 and racing starting at 6pm.  As always we will have the BBQ going and drinks for sale.
In the mean time, you may want to head along to another clubs club day:
Rotorua holds their club days on Wednesday's with registration from 5:15pm and racing 6pm
Cambridge club days are on Sunday's with registration at 1pm and racing 2pm
Winter Series
Unfortunately due to the delays in building of the Ramp, we are not able to Hold the Central Regions Winter Series.
We are looking at having a massive open day for the new ramp however. Details will follow.
Working Bee - This weekend!
15th and 16th September.
This will be a general tidy up of grounds and ramp.  We are also looking at having 30 tonnes of lime delivered for the track.  We need as many people as possible.  Rakes, shovels, lawnmowers, weed eaters - bring it all!  9am start both days!
Lake Taupo Sports Advisory
Applications are now open for individuals to apply for Funding for Nationals next year or Worlds.
Applications close 5th October.  More Details can be found on their website:
http://www.sportsground.co.nz/clubsite.asp?siteid=21312&pageid=81323&pagetypeid=8
North Island Entries
This is a club entry only so all entries have to come to through the club to be processed.  This is also an NQM so will count as one of the four NQM's required to do the 2013 Nationals at Easter in Cambridge.
Number plates will be randomly issued again.  If you want to race with your 2012 National 1-8 number or 2011 North Island 1-8 number please put it on the entry form otherwise you will just get a random number.
Jane needs the entry forms and money to her by the 15th September so she has a few days to get them sorted before entries close.
If you have any queries or want to drop your entry off, please email Jane on lance.jane@xtra.co.nz or call 377 2273 or 027 415 9939.
BMX NZ Events
If you are not receiving the BMX NZ entry forms, please reply to this email and let Anne-Marie know so that she can forward them on to you.
Up Coming Events
15th &16 September - Taupo BMX Club Working Bee
15th September - Taranaki Region Champs
23rd September - Pre North's – Whangarei
17th October - Taupo BMX Club days resume
20th & 21st October NORTH ISLAND Titles - Whangarei
18th November - National Pump Champs