BMX is starting again!  It's all about to crank up - Training, Club days and Winter Series!
Read on for more details:
Central Region Winter Series
The Winter Series is an inter-club competition comprising of the Central Region Clubs - Taupo, Tauranga, Gisborne, Rotorua and Hawkes Bay. Points collected by each rider goes towards their club total and at the end of the round, the club with the most points takes out the Central Region trophy. Each rider must ride at three rounds for their points to be carried over.
Tauranga hosts their round of the Winter Series tomorrow. This is enter on the day and ANY licensed club member is able to participate, so if you are keen, get on over there! Especially if you are and AIMS Games competitor.
We are going to have our Winter Series round on the 21st August from 11am with Hawkes Bay hosting the final round the following weekend.
Working Bee
We will be having a working bee on Saturday 13th from 10am to tidy up the track and grounds ahead of the Central Region Winter Series. There will always be something to do, so please come along and lend a hand.
Club Nights Returning
We will start our season off on Wednesday the 31st August under lights. The usual 5:15 check in with racing 6pm. We will try and get the table toppers and striders through quickly so that they don't get too cold.
The decision to run under lights and not on Sundays is due to other events on - Winter Series and AIMS Games. We realise that it does not suit everyone, however, Sundays don't suit everyone either! September will be fun nights.
Club champs will start in October with Club points nights starting in the first week of October.
Training
Sprocket Training - This is still to be confirmed, but is likely to commence in October.
Monday Rider Training - Resumes 12th September at 5.30 with Scott. This is for Sprocket and up riders who can already ride from the ramp and are keen to advance their skills.
Tuesday Rider Training - Resumes 13th September at 5.30 with Lance. This is for those riders who are committed to travelling away to race and have already advanced from Mondays.
Wednesday Gate Sessions - From 4.30pm for an hour or so depending on demand. These will run until Club nights resume.
Weekend Gate Sessions - these will be run from time to time and will be advised on Facebook and to our text group. We will typically try to give at least an hours notice before gates.
Rider Spotlight - Logan Hirst
Logan recently travelled to USA and competed at many events. Here is a photo of him and some of his spoils from racing. Well done Logan!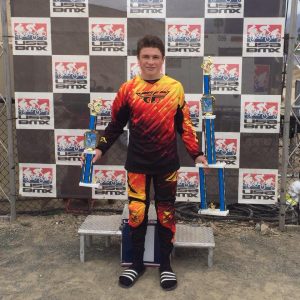 "Solid weekends racing at the Great Salt Lake National. 7th in expert and 2nd in open yesterday. And today 4th in open and super stoked to make my first podium in expert and come away with 3rd. I head back home now it's been an unreal experience cheers to everyone for the support"