Happy new year and welcome to an exciting 2013 at Taupo BMX Club.
---
Club Day's Resume
The 2013 Taupo BMX Club days start back tomorrow the 16th January with 5.30pm registration and racing underway at 6pm.
There are a few minor changes to club days this year, but the most exciting is the addition of an Open Cruiser class.  If you have a cruiser and want to get in on the action, bring it along on club nights and get into it!
As usual, the BBQ will be cranked and drinks will be on ice!
---
Training
Training - both sprocket and general re-commences on 22nd January at the usual times.
---
Taupo Hole Shot Meet - 17th February
We still have details to iron out, but we are all go for our February meet.  We hope to attract quite a few out of town riders who may have ridden at Rotorua the day before, so this could be a big one.  Numbers won't be known till closer to the day, but we are hoping for a good turnout this year!
If anyone can lend a hand on the day, please email Anne-Marie (info@taupobmx.org.nz) and she will slide you into the roster somewhere.  We will need as many people to help as possible, so please put your hands up!  There will be a working bee the weekend before the meet to tidy up the track, so keep that in mind too please.
The Club is also looking for sponsors for races for the day.  Just $50 gets you naming rights for a race class for the day - or if you know of any other businesses that may be interested, feel free to approach them and secure their interest.
---
Working Bees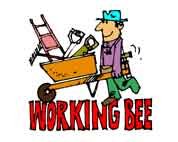 This weekend on Saturday and Sunday from 10am there will be a working bee.
There are changes to be made to the first jump and lime needs to be put on.  Bring a shovel and a rake or a weed eater and lend a hand.  If you have not been to a working bee before, we would love to see you come along.
As mentioned before, we will have another bee before the meet on the 17th.  That will be to spread new lime on the track and a quick tidy of the track enclosure.  If you can't make it to this weekends, please try and get along to the next one which is tentatively the 9th of February.
---
Weekend Track Access
It has been decided by the committee that the track will be open for public access on Saturday and Sunday's from 10am till 5pm.  This will hopefully help with the promotion of BMX by encouraging people to give it a go at their leisure.  We will get some signage in place in regards to track direction and dirt jump disclaimers before this happens however.
---
Up and Coming Events
It seems that some members are not receiving the BMXNZ fliers for race meets.  We will endeavour to have them
loaded onto our website as they come in, so keep checking here:
https://taupobmx.org.nz/event-flyers.html
The 2012/2013 Race Calendar is here: http://www.taupobmx.org.nz/events.html
See you at the track on Wednesday night!